Chris Lubanski, Unplugged
Perhaps the biggest mystery in the minor league system this season is the performance of Chris Lubanski. His season line of .293/.337/.533 is solid but remains questionable given that he plays half of his games way up in the sky in High Desert, and the rest in parks collectively known for their benefits to hitters.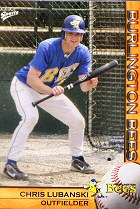 So, since Minor League Baseball doesn't provide anything resembling comprehensive statistics for minor league players, I've taken the painstaking effort of recreating his season statistics through daily lines. Be aware that my calculations of OBP aren't perfect, since I don't have the SF totals, but I think that would make a negligible difference anyway (numbers through August 29th).
Lubanski was terrible in both April and May, home or road:
April: .177/.235/.329
May: .227/.270/.429
Since June, however, Lubanski's line has been quite spectacular if you ignore the Angel Berroa-ish plate discipline:
(290 ABs): .342/.382/.619, 17HR, 20 BBs, 70K
Since June 1st, he hasn't been AWFUL on the road, but he's clearly getting a huge performance bump by spending half of his time in High Desert:
Home (157 ABs): .376/.430/.726, 13 HR, 15BB, 36K
Road (150 ABs): .307/.329/.507, 4 HR, 5BB, 34K
Lubanski also has somewhat better plate discipline at home (using that term loosely), while his BB/K ratios on the road are nothing short of terrible.
It's difficult to know how to assess these numbers. It would be nonsense to dismiss Lubanski's performance as only being a result of the friendly confines of High Desert. Plenty of players still don't hit nearly as well in the same park, and Lubanski is among the league leaders in a hitter's league in general. But at the same time it is difficult to get too excited about Lubanski, given the huge differences between his home and road performances and his poor plate discipline in general, which will not serve him well as the pitchers become more skilled at the higher levels. I certainly feel more positive about Lubanski than I did earlier in the season (when I considered him a non-prospect), and the fact that he's performed very well at such a young age (19) is a feather in his cap. but I still think we should withold judgment until he spends at least half a season in Wichita (another hitter's league, but not nearly in the same way).
Also, looking through the box scores Lubanski spent the better part of April and early May in the leadoff spot, but he struggled so mightily that they dropped him down to #6, which is where he finally put it all together. In the past several weeks, he's been batting #3 or #4. It's pretty obvious that with his plate discipline he's not anything close to an ideal leadoff hitter, and at least the Royals are acknowledging that by dropping him down in the order.